Brussels Parc Malou - industrial music Concert.

" A perte de vue ". Creation of an event in a park, a lake and a castle for the 25th anniversary of the GPOA gallery. Fire, the basic material, is used on the ground, in the air, on the water. Industrial music concert. Brussels, Belgium . Summer
l'Haÿ les Roses. Church facades Installation.

"Le printemps en automne ", installation of 1,100 yards of paintings on the facades of a church and in a park. L'Haÿ-les-Roses, France, September.
Gardens of the Castle of Jehay, Belgium. "aquatiques".

Photos of the sky of Venice, Île de France, Brussels, and of the Dorset, float on the moat water the Castle, size of each photo 82 by 33 feet. Summer 2006
Brussels - Parc Malou - "Change of State through fire".

Installation and 5 visual and sound performances, at the Parc and Malou Castle. 9 flammable sculptures, each 10 feet high, 6.6 feet long, 5 feet deep.
Performance, memory, smell, color, sound, and change of physical state through fire. Brussels, Belgium Summer 1989.
"Mirage", Avenue des Nerviens Bruxelles, Belgique.

Inauguration of an Art Center. 1981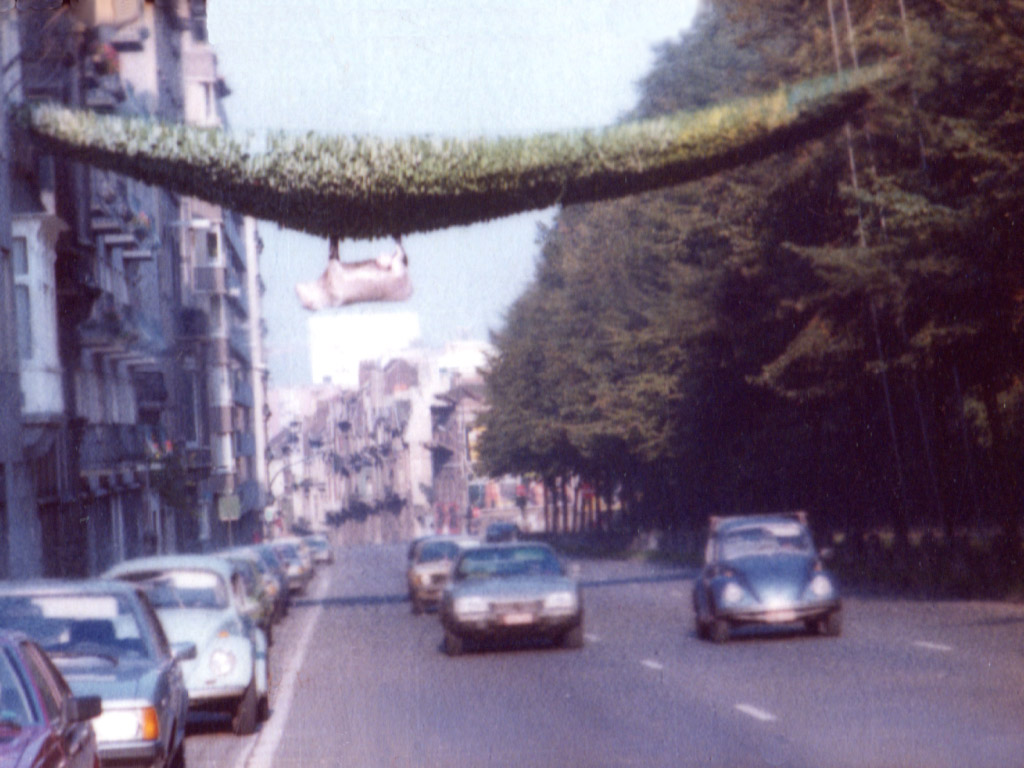 Cultural Center of the City of Ittre. Project « JOIE » - Summer 2015

Outdoors : a large Land Art Installation in three parts.
indoors : an exhibition of painting and photo - paintings, sculptures and luminous paintings.
Créances beach, 2 Installations-events

Dialogue with the wind I and II ".Installation of monumental sculptures on the Beach of Créances, creation of two events Painting of 1,100 yard on the road adjoining the beach. With the City of Créances France Summer.
Luxembourg - Public Square. "Le son de la couleur " performance. painting. sound.

"The sound of color" Performance . Creation and same day consumption of a painting, made on a fabric of 165 by 165 feet; in a public place; in parallel with a sound performance. Luxembourg. Summer.
"Rencontre". Bruxelles. Island. Performance sonore.

An installation and two sound performances, "piano-spade" on an island in the Parc-lac Malou. Brussels, Belgium. Summer.